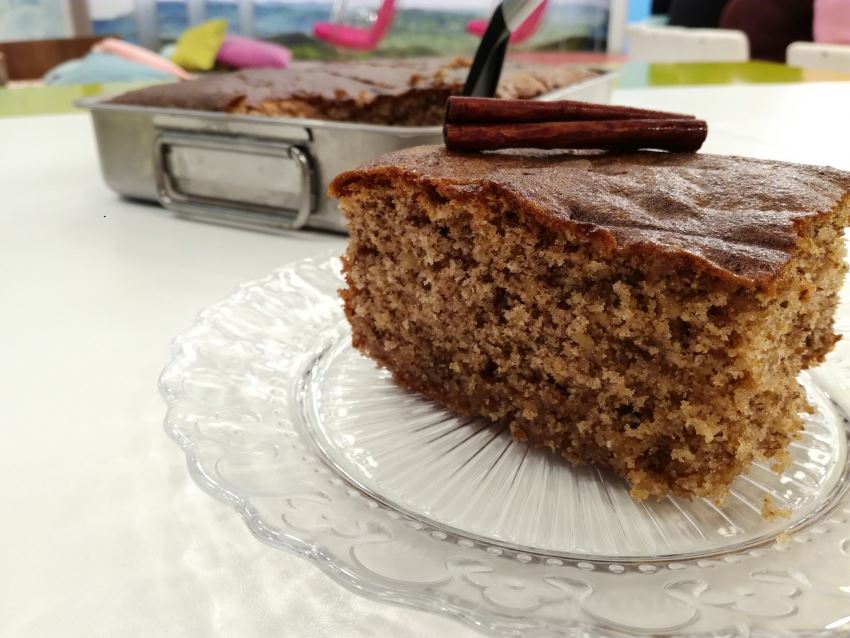 The pecan pie is a sweet that we meet all over Greece and especially in the islands. The main ingredients are walnuts, semolina and orange juice.
Ingredients:
250gr of butter

2 cups of sugar

5 αυγά

1/2 lt of milk

1/2 kg of fine semolina

1 cup of toast crumbs

1 sachet of baking soda

1 cup of walnuts coarsely chopped

1 teaspoon of soda

3 oranges well squezzed

orange zest

2 teaspoons of cinnamon

1/2 teaspoon of carnation
For the syrup:
2 1/2 cups of sugar

1 1/2 cups of water

lemon zest
Directions:
I divide the eggs and mix them to be a white meringue
In a bowl, we add the buuter with the eggs' yolks and the sugar. We mix them well.
Then we add the semolina, the toast crumbs,the milk and the baking soda.
In the orange juice we dissolve well the soda, and we mix it well with the rest mixture. Then we add the cinnamon and the nuts.
Place them in a buttered pan and bake them in a medium oven for about 1 hour.
After I remove the pecan pie from the oven I let it cool down and then I make the syrup.
For the syrup:
Put in a saucepan the ingredients for the syrup all together and let them boil for about 5-7 minutes.
We engrave the pecan pie in pieces and pour the syrup at these points.
The recipe was given to us by the Myli – Kourounohori Association and we thank them.
Photo: giorgostsoulis.com