Walking through the amazing alleys of the stone-built Damalas village will take you to the small square that "hides" an excellent exhibition space, the restored traditional oil press.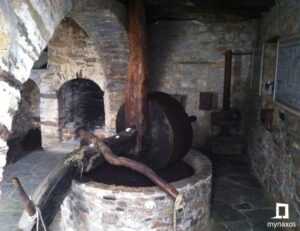 Until 2000, the time had left his markings intensely in the mill. The Damalas Association of Naxos, however, has decided to give life again to the ruined area. The oil press was restored with love, care and respect to its history.
In its premises the visitor can see and process the large cylinder, tools and utensils used by the people of the village to produce the oil but also to admire the unique architecture of the stone-built building.
On the walls there are texts describing the whole process of oil production, from the harvesting of the olive tree to the final stage, when the fresh olive oil is ready to reach the table.
The entrance to the traditional Damalas oil press is free and the space is open to the public all year round. At the entrance of the oil press there are books with the history that the visitor can get with him , as long as he gives few money.
See more photos below: