In an area full of monuments and Venetian buildings, in Naxos Town, is the Archaeological Museum of Naxos.
Among the hundreds of exhibits, you will find the famous Cycladic figurines as well as a beautiful mosaic.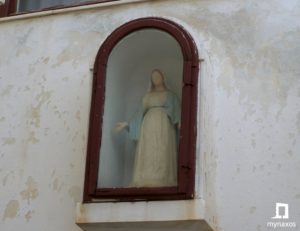 Location:
The Archaeological Museum is located almost at the top of the Castle, next to the Cathedral of the Catholics and the Monastery of the Capuchins.
What you will see there:
In the historic building of the Emporiki School of the island – where students of important art and intellectuals, such as Nikos Kazantzakis, studied as students, the Archaeological Museum of Naxos is housed.
His collections include a series of particularly important and rare exhibits, dating back to the 5th century BC. until the 5th century AD.
Among them is the trademark of the islands of the Cyclades, the marble figurines of 3200 BC.
The visitor's attention is the vase of the Mycenaean period, the ceramics of the Hellenistic period, and the ancient sculptures!
The Archaeological Museum of Naxos is open all day of the week, except Mondays from 08:30 to 15:00.
For more information, call +3022850 22725.