On the southwest coast of Naxos is Glyfada beach.
This particular beach is located between Kastraki and Alyko and is one of the most popular options for swimming in recent years.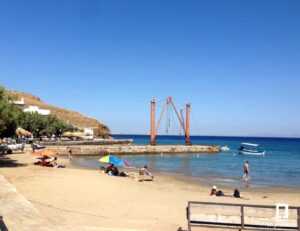 The golden sandy beach embraced by cedar trees is a unique landscape on the Cycladic island.
Discover the small bays and enjoy lonely dives in the crystal blue waters of Glyfada.
The beach is not organized but there are taverns to enjoy your coffee or your food.
How will you go:
By private car or motorbike you can follow the routes:
Chora -Glinado-Tripodes(Vivlos) -Kastraki-Glyfada (16 km)
Chora-Galanado-Sagri-Kastraki-Glyfada (22.2 km)
The beach of Glyfada is connected to Chora with the route KTEL "Chora-Kastraki".
More information on KTEL's website www.naxosdestinations.com